Pro Supps Mr. Hyde Nitro X RTD 12/Box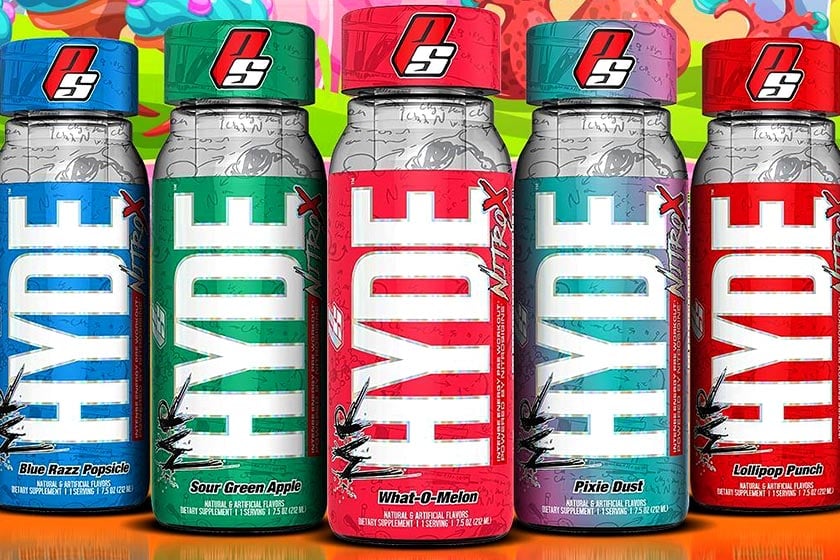 PROSUPPS MR HYDE NITRO X RTD 12/7.5OZ
ProSupps® Mr. Hyde NitroX RTG – Lollipop Punch was created to be the complete and convenient training solution. Harnessing the power of the legendary Mr. Hyde NitroX in a ready-to-go bottle, it's time to take your training to a whole new level. With ingredients to fuel pumps, mental focus, energy and motivation, Mr. Hyde NitroX RTG leaves no stone unturned in the pre-workout checklist.
Provides a true serving of Mr. Hyde NitroX Pre-Workout in a ready-to go-bottle form
 For overall performance†
Helps increase metabolism with powerful thermogenic compounds†
Features Nitrosigine® to promote blood flow for increased pumps and vascularity †
Enhanced mental focus and motivation†
Infused with TeaCrine™ †
NUTRITIONAL FACTS
PUNCH

Serving Size: 1 Serving 7.5g Fl. Oz. (212 ml)

Servings Per Container: 12

Amount Per Serving

%DV

Niacin

25 mg

156%

Strength Matrix

4.5g

Beta Alanine (CarnoSyn®)

2.5 g

**

Creatine Nitrate (NO3-T®)

1 g

**

Arginine Silicate (Nitrosigine®)

500 mg

**

L-Citrulline Aspartate

500 mg

**

Caffeine Matrix

420mg

Caffeine Anhydrous

300 mg

**

Di-Caffeine Malate

70 mg

**

Caffeine Citric Acid Blend

50mg **

Citric Acid

**

Caffeine Anhydrous

**

Intensity Matrix

653mg

Choline Bitartrate

500 mg

**

Theanine

50 mg

**

N-Acetyl Tyrosine

50 mg

**

Theacrine (TeaCrine®)

25 mg

**

Gamma-aminobutyric Acid (GABA)

25 mg

**

Yohimbe Bark Extract

3 mg

**

* Percent Daily Values are based on a 2,000 calorie diet.

** Daily Value not established.

† Actual Caffeine Content is 378mg per serving

Other Ingredients:

Triple Filtered Water

, Natural and Artificial Flavors

, Soluble Corn Fiber

, Citric Acid

, Sucralose

, Calcium Silicate

, Potassium Sorbate (as a preservative)

, Sodium Benzoate (as a preservative)

, Acesulfame Potassium

, Malic Acid

, FD&C Blue #1

Contains 0% Juice

Manufactured in a facility that processes milk, egg. soy, wheat, and shellfish.
Directions For Mr. Hyde NitroX: As a dietary supplement, mix 1 scoop of Mr Hyde™ with 8 oz of cold water. Consume 15 to 30 minutes before exercise. Do not consume Mr Hyde™ within 4 hours prior to bedtime. Do not take any other products that contain caffeine or any other stimulants while taking Mr Hyde™.
Warnings: Mr Hyde™ is for advanced exercise and supplement users only. Do not exceed one serving in a 24 hour period. Not for use by individuals under the age of 18 years. Do not use if pregnant or nursing. Consult a physician or licensed qualified health care professional before using this product if you have, or have a family history of heart disease, thyroid disease, diabetes, high blood pressure, depression or other psychiatric condition, glaucoma, difficulty in urinating, prostate enlargement, or seizure disorder. Do not exceed recommended serving. Exceeding recommended serving may cause adverse health effects. Discontinue use and call a physician or licensed qualified health care professional immediately if you experience rapid heartbeat, dizziness, severe headache, shortness of breath or other similar symptoms. Individuals who are sensitive to the effects of caffeine or have a medical condition should consult a licensed health care professional before consuming this product. Do not use this product if you are more than 15 pounds overweight. The consumer assumes total liability if this product is used in a manner inconsistent with label guidelines. Do not use for weight reduction. This product is intended for use by healthy individuals only. Keep out of reach of children. Too much caffeine may cause nervousness, irritability, sleeplessness and occasional rapid heartbeat.
* These statements have not been evaluated by the Food and Drug Administration. This product is not intended to diagnose, treat, cure, or prevent any disease.